As the days of Marvel drew to a close after the release of Last Crusade, many wondered what would happen to the intrepid archaeologist in comic book format. For fans of the novels, there were still novels being published by the likes of Max McCoy and Rob MacGregor. I'll be covering these in a later article. But in March 1991, things were about to change.
This was the first brand new comic to be published by the current license holder of Indiana Jones. This was a 4 part series that predates the hugely popular game by a year. It follows Indiana Jones as he searches for the lost continent of Atlantis. Aided by his friend and love interest Sophia Hapgood, Indy must race Klaus Kerner to Atlantis before the Nazis get the unlimited power of Atlantis. Like the game it is set in 1939, just months prior to the outbreak of WW2. It was reprinted in 1992 as a trade paperback to coincide with the game's release and then again in 2008, with the launch of Dark Horse's Indiana Jones Omnibus Vol.1.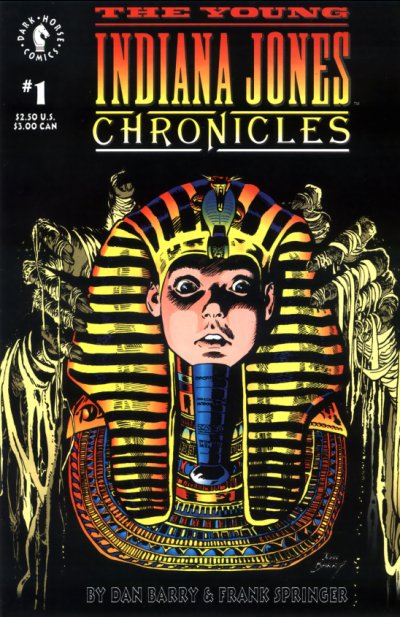 After the amazing feedback that Fate of Atlantis recieved, Dark Horse released it's second tie in. The Young Indiana Jones Chronicles debuted March 4th on ABC in 1992. Dark horse released a 12 issue series that tied in with the series. Issues 1 covered Egypt 1908 (My First Adventure), Issue 2 covered Mexico, 1916 (Curse of the Jackal). 3 and 4 covered British East Africa, 1909 (Passion for Life). Issues 5 and 6 covered covered Verdun 1916 (Demons of Deception). 7 and 8 covered German East Africa, 1916 (Phantom Train of Doom). 9 and 10 covered Austria, 1917 (Adventures in the Secret Service) and finally 11 and 12 covered Peking, 1910 (Journey of Radiance). Sadly, the series has not been reprinted yet, so the only way to get these at the moment is by tracking down the individual issues. Hopefully, Dark Horse will reprint these comics.
The next mini series to be released by Dark Horse was Thunder in The Orient in 1993. It follows the story of Indiana Jones and Sophia Hapgood racing the Imperial Japanese Army this time to Shangri-La. The journey takes them through India to Nepal to Afghanistan and then finally through enemy occupied China towards their goal. It was a six issue series. There are several references to the Young Indy Chronicles within the comic. Indy states that he remembers riding with Pancho Villa and Indy also states that he worked with French Intelligence during World War 1. It was recently reprinted in the Indiana Jones Omnibus Vol 1.
Storming off the back of Thunder in the Orient in May 1994, Dark Horse released their next storyline. Indiana Jones and the Arms of Gold. Set in 1937, the story follows Indy as he travels to South America in search of Chimu Taya Arms of Cuzco. A set of golden armour belonging to an Inca emperor. Oddly, as the story takes place in South America, most of the people he encounters speak Quechea, Indy relies on a translator, though he should already know and speak Quechea as he rode with Pancho Villa and his men, who did speak Quechea. The story is spread over 4 issues and was reprinted in the Indiana Jones Omnibus vol 1.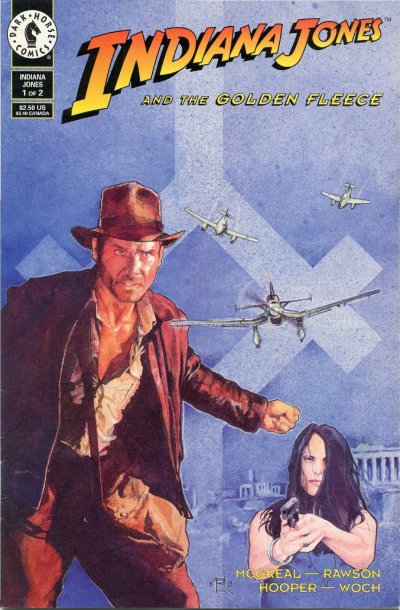 Only a month after Arms of Gold had finished, Dark Horse released their next story for our intrepid adventurer. It was a two part story called The Golden Fleece. It hit stores and newstands in June 1994 and is set in Greece, 1941. In this one, the Nazis and the Cult of Hecate are after the Golden Fleece, which would mean supreme victory for the Nazis if they got their hands on it. Indy must recover the Fleece before the Nazis or the Cult of Hecate get their hands on it. It was first reprinted in Dark Horse Spotlight in 1994 and then again in 2008, in the Indiana Jones Omnibus Vol.2.
Penned in October 1992, the same month as Young Indy Chronicles, Dark Horse released their big story Shrine of the Sea Devil. The story was published in Dark Horse Comics Anthology to begin with, rather than a separate series dedicated to Indy. The story is set in 1935, prior to the events of Temple of Doom. Indy is in the South Pacific, searching for the Shrine of the Sea Devil, an underwater palace that's supposedly filled with vast wealth and treasures beyond comprehension. It was later reprinted in 1995 in a trade paperback format, but hasn't been reprinted since.
This is just the first part in a look at what Dark Horse had to offer in terms of Indiana Jones stories since they took the license in 1990. Next week, I'll be finishing my look at Dark Horse stories that;ll cover the end of 1995's run and then into the 2000s. Most of the stories have been reprinted in the omnibus format, which can be found online. Though some collectors may want the individual issues, which can be found in comic shops and online largely cheap these days.