I know it's been a while since I posted in this blog, but aside from real life issues, we're back to normal service. To kick things off, we're gonna take a look at the Indiana Jones Titanium Series. They were normally 15mm scale die cast models featuring vehicles from the franchise.
Believe it or not, they're actually modern day Micro Machines, since Hasbro now owns Galoob.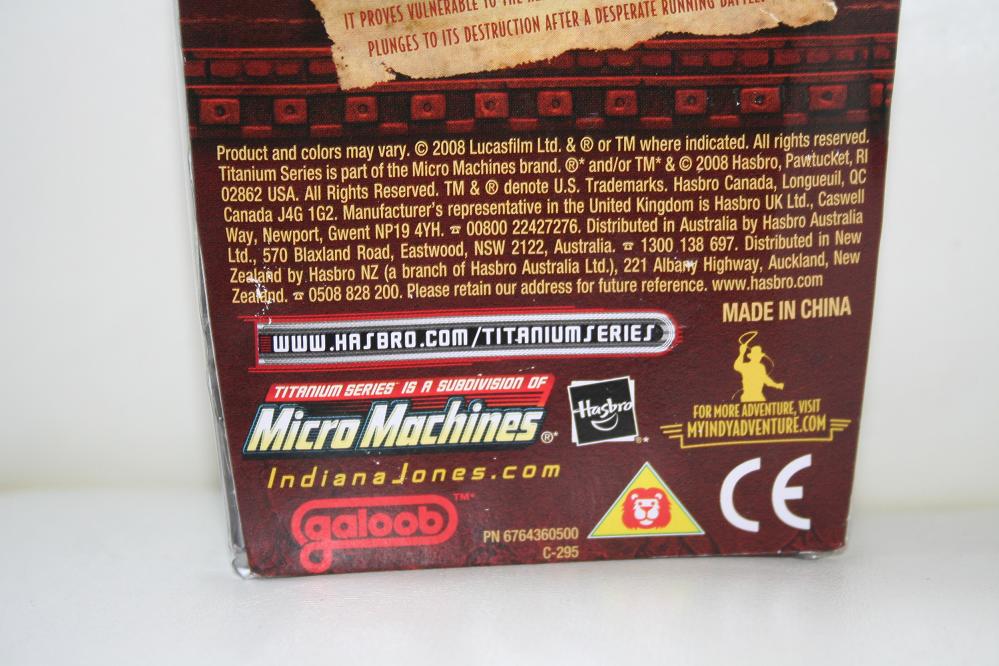 Now for today's review, we're going to be taking a look at one of the more iconic vehicles from the Indy franchise: Vogel's Tank from Last Crusade. It was released in 2008 like all the other toys in the Indy line to coincide with the release of Indiana Jones and the Kingdom of the Crystal Skull.
The tank measures roughly 15mm long from the tip of the treads to the rear. The main turret can rotate 360 degrees and the side 6pdr guns can move side to side. All of the Titanium series vehicles come with their own little display base to put them on and all feature the INDIANA JONES logo. Aside from the turret and the side guns, it's all completely die cast metal, something which is missing from today's toys. On the secondary market, they haven't lost much of their secondary value. Depending on where you go for the tank, it doesn't really go for much more than $10.
I really do like the Titanium Series. They're nice little collectables that you can either keep carded or take them out and put them on display somewhere. They fit quite neatly on any shelf, either on their own or on their display stand. For the more creative amongst the fandom, you could even create some 15mm scale dioramas and put them in there.
As a fun little side note for all the vehicles, the back of the card features a little fact sheet about said vehicle and a little blurb describing it's moment in the movie. Here's Vogel's tank: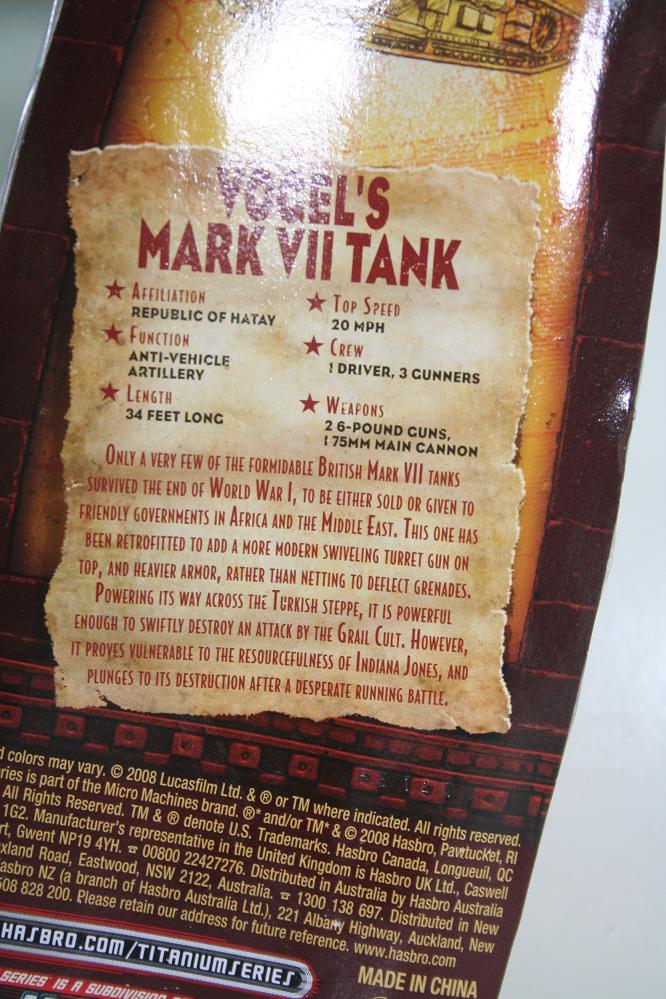 In conclusion: It seems a very cliche thing to say about the Titaniums, but I love them and I think that every Indyfan should have them in their collection. Like I said previously about the Adventure Heroes figures, they're small and don't take up much room. They look great on any shelf and even desks. If anyone at there plays Flames of War or even Axis and Allies Miniatures, Vogel's Tank, the Flying Wing, the Cargo Truck and even the Biplane would look great as part of any army.